Movers from New York to Jersey City
Great choice for your next Move
Despite Jersey City's proximity to the nation's largest metropolis across the Hudson river, moving to Jersey City from NY might be a hassle. Moving to a new state is always a thrilling and processr. Moving is a major life event that requires a number of critical choices, such as which neighborhoods to move into and how to physically make the relocation. No matter how long or short your stay in Jersey City will be, you'll want to hire dependable movers to get your stuff there and set you up for success.Our moving company, has for over seven years assisted hundreds of families in their relocations to and from Jersey City. Allow us to assist you with the planning and organization of your next massive transport over the Hudson!
Why Choose Professional Movers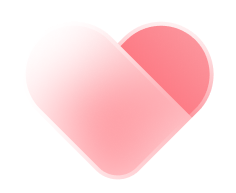 Convenience
Hiring a professional moving company is convenient because you don't have to worry about moving organization and logistics.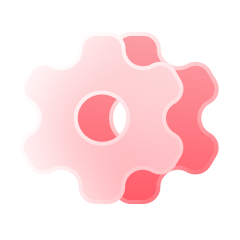 Efficiency
Professional movers are experienced and efficient. They know how to pack and load items quickly and safely.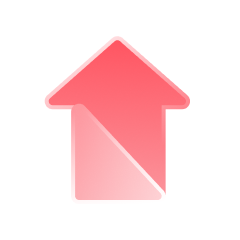 Affordable Pricing
Hiring a professional moving company is often more cost-effective than trying to move on your own.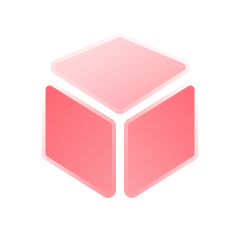 Secure Transport of Fragile Items
We move fragile items safely and without any damage. The professional staff ensures that such items are lifted and moved carefully and securely.
2 000

Happy clients

2 500

Boxes delivered

1 000

Days of work

40

Helpful movers

200,000,000

miles we have traveled during our work
Moving process
When you're looking for Movers from New York City to Jersey City and don't know what to expect from the moving process right here, we can tell you what to expect. New Jersey is a cheaper place to live than New York City. If you're moving to Jersey City, it's important to remember that It's an interstate move even though the distance is short. if your job is small, we can go to Holland Tunnel; otherwise, if you are moving to a three-bedroom apartment or a two-bedroom townhouse, we have to drive all the way up to Manhattan on I-95 and then get down to Jersey City. It's an approximately 30-minute drive, including the traffic.
Our moving process from NYC to Jersey City will go as follows. First, you have to reach out to us to get a quote for your move. Our manager can provide you with a flat price for your move. We can do a FaceTime or email, or we can come to visit you. After we got your inventory list, we can provide you with a precise flat price. Please remember to give us the exact number of boxes and the list of the furniture; this is how we calculate the cost of your move.
New York to Jersey City movers will send you the proposal, and if you like our estimate, you can reach out to us, and we can confirm your move.
On the moving date, our movers from New York to Jersey City will show up at 9 am. We will always wrap your furniture, your TV, your nightstands, your dresser, everything. All the furniture will be wrapped up with the moving blankets; your beds will be disassembled. Our guys always carry tools.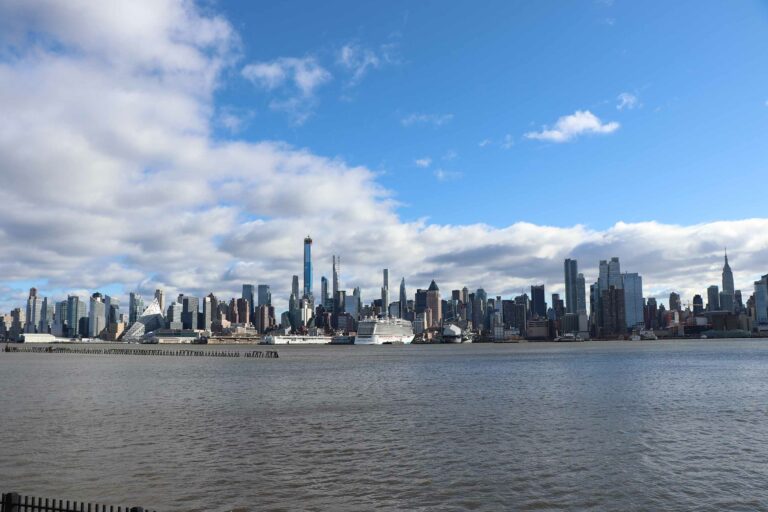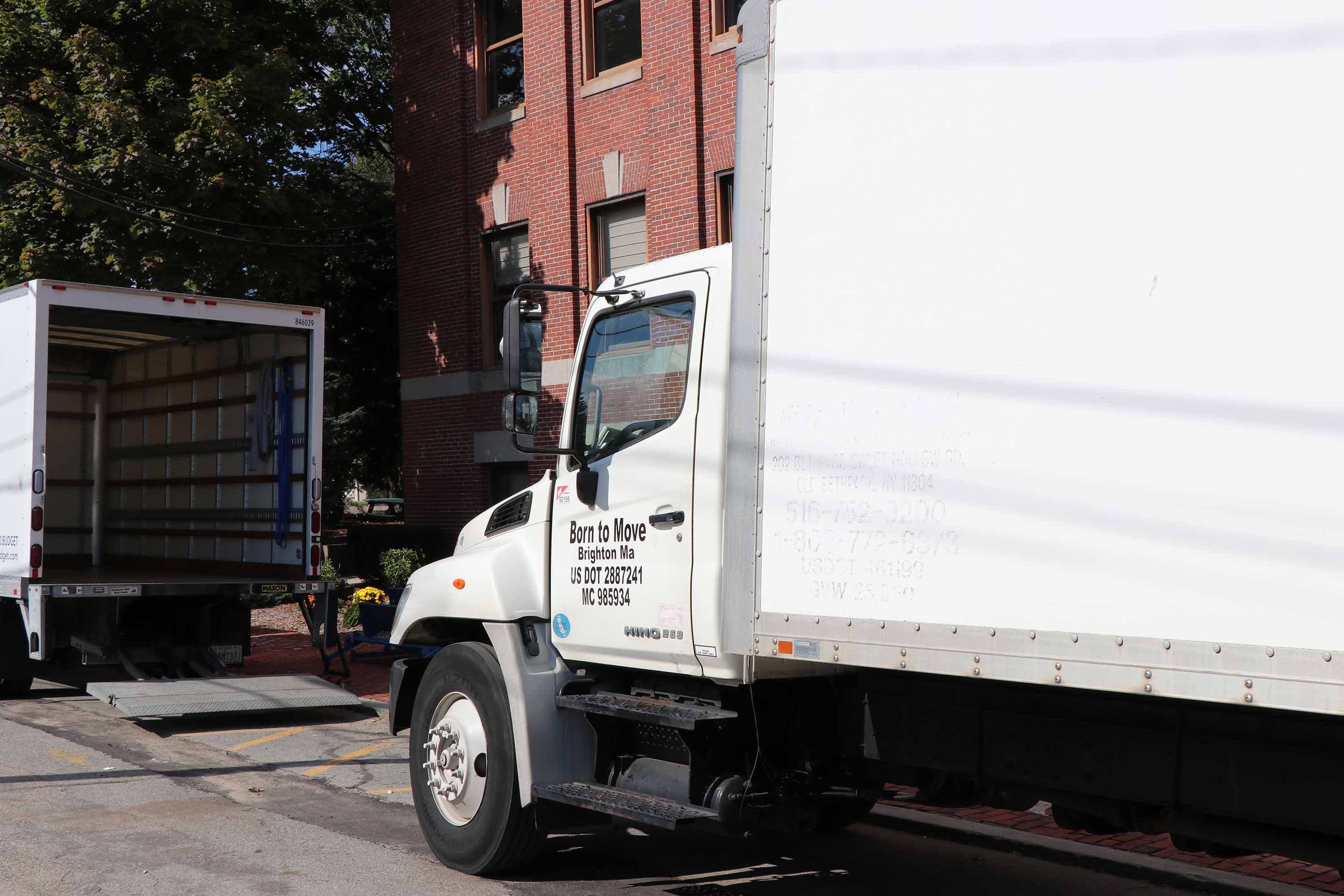 24/7
Our NYC storage facilities are guarded 24/7 by security cameras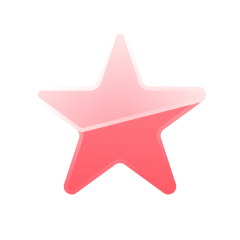 Special Service to Move Items
First, we will unload boxes; then, we will set up furniture in the rooms.
Make sure to pre-pack boxes for movers; otherwise, it will take longer if you will be not prepared for the move. But we will take care of all of your clothes by packing them up in wardrobe boxes. Once the loading is completed, movers from New York to Jersey City will start driving to Jersey City. You can also follow our truck because the distance is short. When we will get to the new location, make sure we will have access to your new home so the movers will start unloading the stuff.
Moving prices
Affordable Prices
Almost all moving companies from NYC to Jersey City provides a flat price for your interstate move. We're not brokers. Brokers usually sell moving jobs to any moving companies who are willing to pay more. When you hire Born to Move, everything will be performed by a company's full-time employees.
Here's what NYC to Jersey City movers charge:
For a one-bedroom apartment move, the flat rate will be $900;
For a two-bedroom apartment, It will be $1300;
If you move at 3+ bedrooms, the move will be around $3000, which will include all of the fees associated with your interstate moving from New York to Jersey City.
Our movers from New York to New Jersey don't require a deposit, so we trust our customers, and you can rely on us. If you need to change the date or cancel, we don't have any cancellation or reschedule policy, so you are super flexible with your schedule.
Please get in touch with us today in order to book Movers from New York to Jersey City.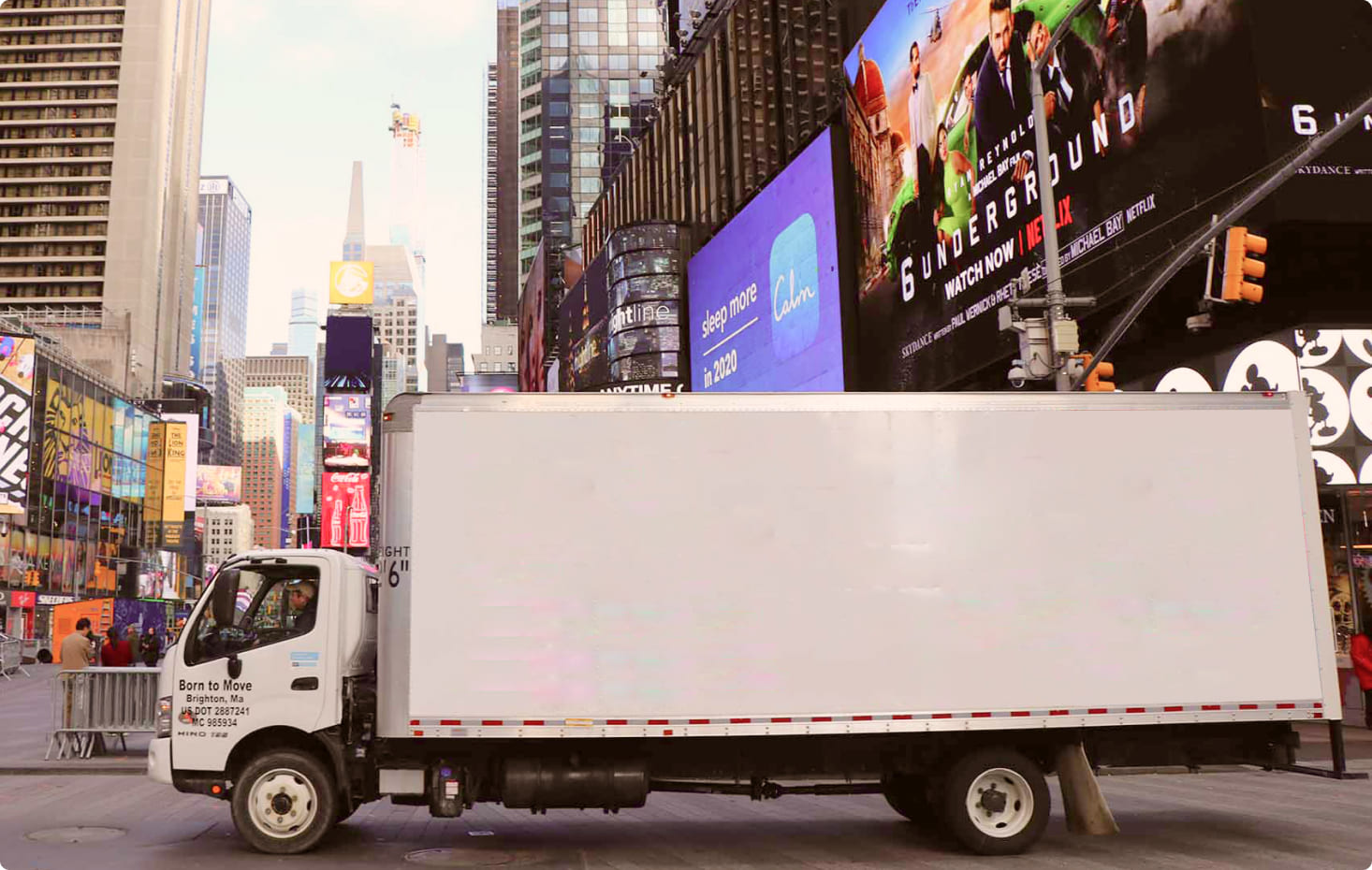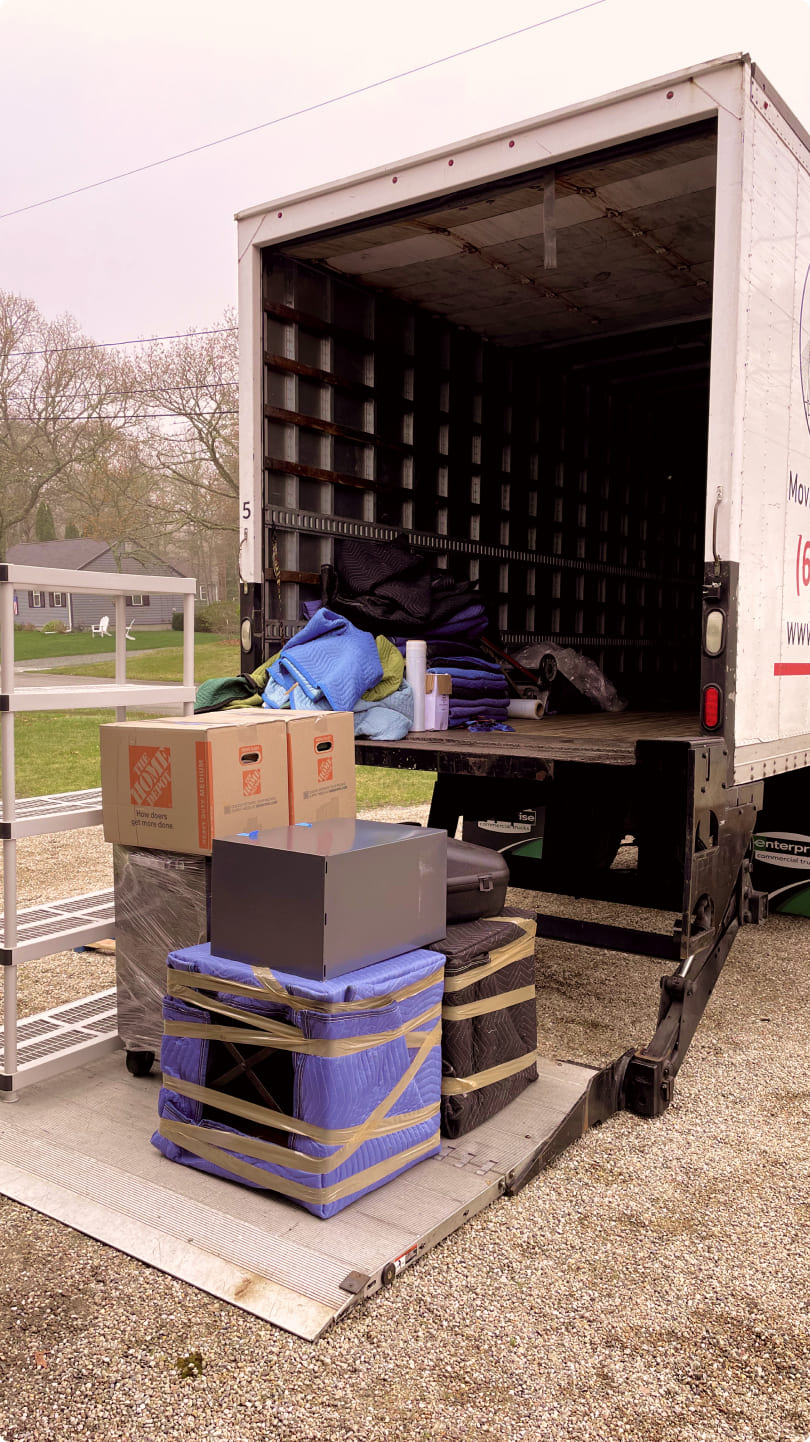 How much do movers cost?
We guarantee delivery on Same-day
Size of the move
Flat price range
small 1 bedroom
$1,100 - $1,800
large 1 bedroom
$1,300 - $2,100
small 2 bedroom
$1,300 - $2,100
large 2 bedroom
$1,800 - $2,500
3 bedroom apt
$2,000 - $3,200
2 bedroom townhouse/house
$2,200 - $3,400
3 bedroom townhouse/house
$2,400 - $3,800
4 bedroom townhouse/house
$2,800 - $4,000
5+ bedroom townhouse/house
starting from $4,000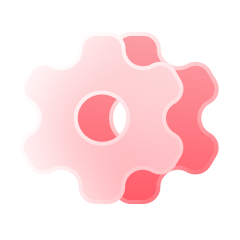 Our flat rates include all other charges:
Labor & Equipment
Floor Protection
Wrapped Furniture
Tolls
Taxes
No Additional Fees
Fuel Charge
Safe Delivery
Guaranteed Price
You can contact us for consultation and detailed calculation of services
Each customer receives guaranteed gifts when ordering a mooove
1 month

of free storage over 12 month

5 boxes

for small stuff

5%

discount for return customers

1 lift

to the apartment for free
How we work
After providing the moving company manager with the details and additional information required, you will get an accurate quote for the moving services. This will help you plan your budget and ensure you have the necessary funds to complete the move.

Once you have accepted the quote and decided to work with our moving company, book a date for the move. This will ensure that the movers have enough time to plan the move and will give you an idea of when your items will arrive at your new home.

3

Wait for the moving day

As the moving day approaches, make sure that you are prepared for the move. Prepare all the furniture and gather all of the things to be moved, pre-pack them according to the instructions provided by the movers if needed, and be ready to go on the day of the move.

After the moving truck has left and your furniture and boxes have been unloaded and arranged in your new home, you can finally start to enjoy your new space. Have the essentials at hand, take the time to settle in, and get to know your new home and surroundings.
FAQ
How long does it take movers to pack a 1 bedroom?

Our movers have the necessary experience packing different stuff volumes, from studio apartments to massive 5-bedroom houses. We are struggling to save our customers time and do the packing services fast and efficiently. On average, it takes around 2-3 hours to pack up an entire 2-bedroom apartment. If you want to get our packing services, please let us know; depending on the size of your home, we can do it a day before or on the same day of the move.

How do I prepare for movers to pack?

To save the time of labor, you may take all kitchen stuff out of the cabinets, making sure that all the stuff is organized room by room.

Do you offer a flat-rate pricing for NY to Jersey moving?

Born to Move has a transparent and clear price policy; we provide all-inclusive flat rates for interstate moving. Once you get a final flat price for the move, it is never subject to change.

What items cant be packed by movers when moving from New York to Jersey?

There is a list of items forbidden for movers to transport: batteries, alkaline & lead-acid, household cleaning products, сorrosive chemicals or poisons, lawn and garden chemicals, flammables and explosives, live animals or plants, gas and oil products, compressed gas cylinders. If you want to move anything from the list, you can always pack it and put it into your personal vehicle.

How much to tip movers when moving from NYC to Jersey?

Tips are not a requirement and always depend on your satisfaction after completing your moving project. Usually, customers appreciate the hardworking of the movers with 10% gratitude.

How far in advance should I hire movers?

Moving has high peak dates with a tremendous demand from the customers, such dates as June 1st, July 1st, August 30th-31st, and September 1st-2nd must be considered for booking at least 2 months in advance. Other dates might be booked 3-4 weeks in advance.